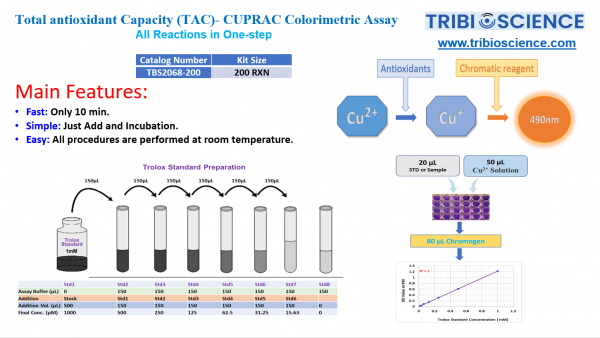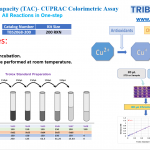 Total Antioxidant Capacity (TAC)- CUPRAC Colorimetric Assay
$390.00
SKU

Stock

SIZE (test)

Price

Quantity

TBS2068-200

Yes

200 tests

$

390.00
Description
Terms
Additional information
Documents
Reviews (0)
Description
Total Antioxidant Capacity (TAC)- CUPRAC Colorimetric Assay
Oxidants, such as reactive oxygen species (ROS) can generate free radicals that can cause severe oxidative damage to cellular lipids, membranes, proteins, and DNA. Antioxidants can scavenge these free radicals and prevent cellular oxidative stress. Antioxidants are widely used as dietary supplements and in the industry as preservatives in food and cosmetics. Measurements of the total antioxidant capacity (TAC) are used as an integrated index to assess their ability to counteract oxidative stress-induced damage in cells.
TribioScience's Total Antioxidant Capacity Colorimetric Assay provides a quick, efficient, and sensitive method to measure TAC from cell lysate, plasma serum, urine, tissue homogenates, and food extracts. This assay is based on the reduction of Cu2+ to Cu+ by antioxidants like Trolox (Fig1). The resulting Cu+ specifically forms a colored complex with a colorimetric probe. The color intensity at 490nm is proportional to TAC in the sample.
APPLICATION
Direct Assays: serum, plasma, urine, tissues and other biological samples, food, and beverages.
Drug Discovery/Pharmacology: Effects of drugs on TAC.
FEATURES
Sensitive and accurate: Sensitive and accurate. Use 20 µL sample. Linear detection range from 15.63 to 1000 µM Trolox equivalents.
Simple and high throughput: The procedure involves the addition of a single working reagent and incubation for 10 min. Can be readily automated as a high-throughput assay for thousands of samples per day.
KIT CONTENTS FOR 200 ASSAYS


STORAGE CONDITIONS
Store the kit at –20°C, protected from light. Shelf life: 6 months.
Fig. 1 The Reaction Principle

Fig. 2 Diagram for standard preparation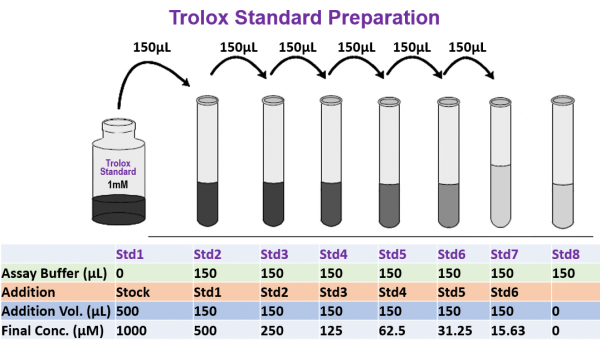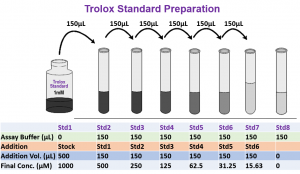 RELATED PRODUCTS: