Our mouse genotype technologies are based on high resolution-real-time qPCR, or agarose gel analysis to accurately identify heterozygous, homozygous and wild-type. We provide fast, high-quality, and affordable mouse genotyping services with real-time and regular PCR technologies. With prices as low as $5 per sample, we guarantee all clients a 72-hour turnaround starting from the time the sample is received.
Main Features
Simple: PCR products can directly load into an electrophoresis gel
Fast: DNA extraction takes only 10 minutes
Flexible: Compatible with real-time PCR and regular PCR
Multiplexing: Strip tube for parallel processing
Mouse Genotyping Protocol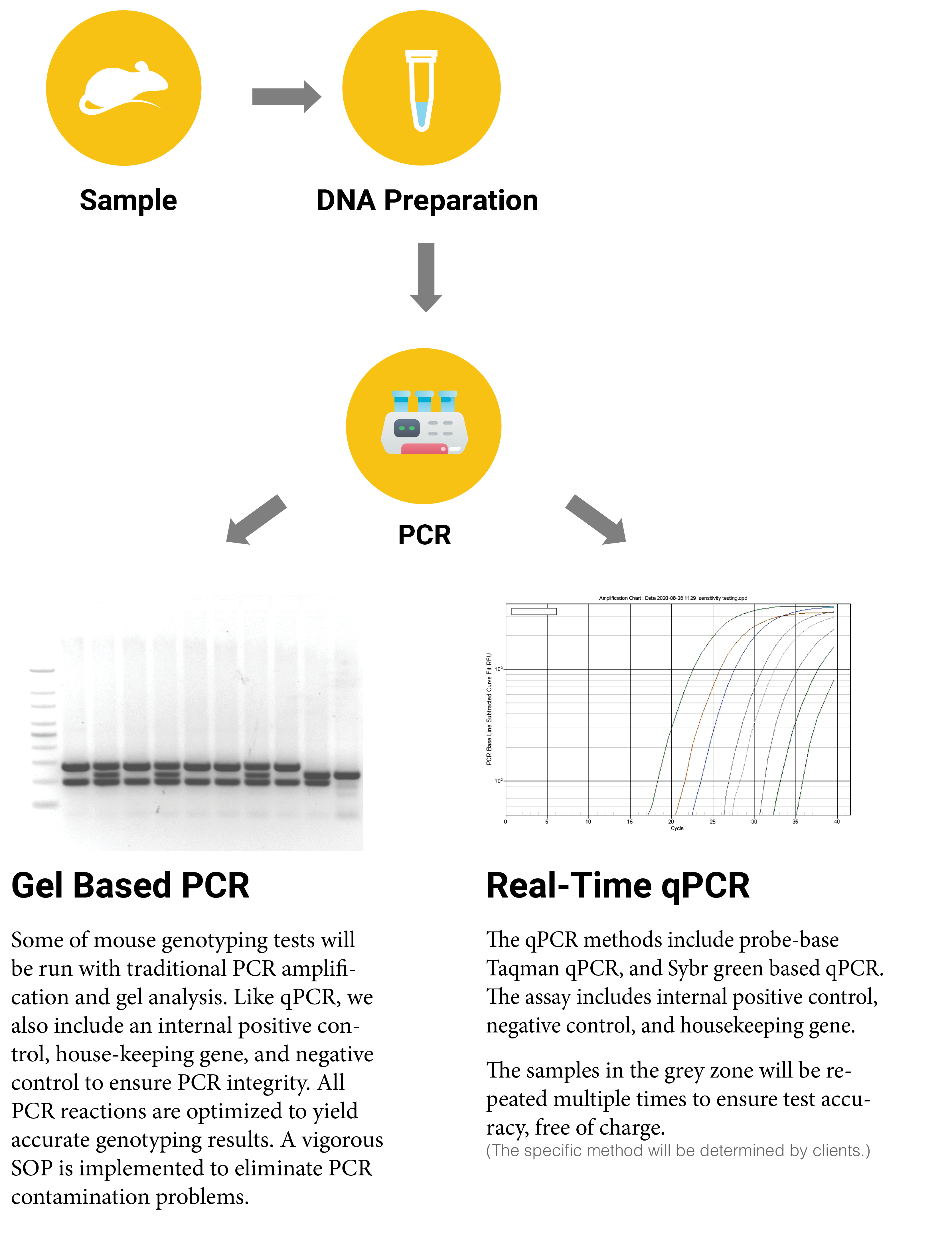 ➀ Fill out the order form
At least 30 µl of 15ng/µl of DNA in each tube. Only 1-5 µl of the DNA will be used in each PCR reaction and the remaining DNA can be returned after the genotyping has been completed.
For tail tip or ear clip samples, please make sure they are over 3mm size, and each tube for one sample. Please make sure samples are not cross contaminated by others, and that the tissue in the well corresponds with the sample order form.
We will need at least one control which is either Het or Hom, ideally both. And one WT sample can be included as a reference as well.

 Turnaround time
The turnaround time for the analysis can take up to 72-hours although usually and especially when requested results are available earlier.
Labeling & Packaging of samples
Less than 20 samples can be submitted in 1.5ml Eppendorf tubes. More than 20 samples should be submitted in 96 well fully skirted PCR plates covered with a seal.
Samples need to be positioned and labeled according to the submitted Order Form. Ideally a unique identifying number(ID) is written onto the tube with a permanent marker, or the 96well plate is labeled with the name of the submitter and the date of submission.
We recommend shipping the DNA or tissue samples in cool condition. You can ship the samples with Fedex overnight service. We can help to create label and schedule for picking up.
Contact Us:
Email: [email protected]
Phone: +1 (408) 498-0197
Address: 365 San Aleso Ave,
                 Sunnyvale, CA 94085