Human D-Dimer ELISA; 1 step and 1hr.
Tribioscience
D-dimer (or D dimer) is a fibrin degradation product (or FDP), a small protein fragment present in the blood after a blood clot is degraded by fibrinolysis. It is so named because it contains two D fragments of the fibrin protein joined by a cross-link. D-dimer concentration may be determined by a blood test to help diagnose thrombosis. Since its introduction in the 1990s, it has become an important biomarker test performed in patients with suspected thrombotic disorders. While a negative result practically rules out thrombosis, a positive result can indicate thrombosis but does not rule out other potential causes. Its main use, therefore, is to exclude thromboembolic disease where the probability is low. In addition, it is used in the diagnosis of the blood disorder disseminated intravascular coagulation. The significant increase of D-Dimer is associated with higher mortality in those suffering from lung diseases such as Covid-19.
Tribioscience's Fast Human D-Dimer ELISA is designed to quantitatively detect human D-Dimer levels in serum, plasma, and other biological samples. The main feature is that the kit uses our novel proprietary approaches to combine samples and detections into a one-step instead of the complicated traditional methods. It makes the assay simple, easy, accurate, and fast. The measurement can be finished in 1 hour, not need 4-5 hours. The detection range is from 2 to 1458ng/mL. The levels of human D-Dimer samples are parallel to the standard curves obtained using the kit standards linearly. These results indicate that this kit can be used to determine relative mass values for human D-Dimer.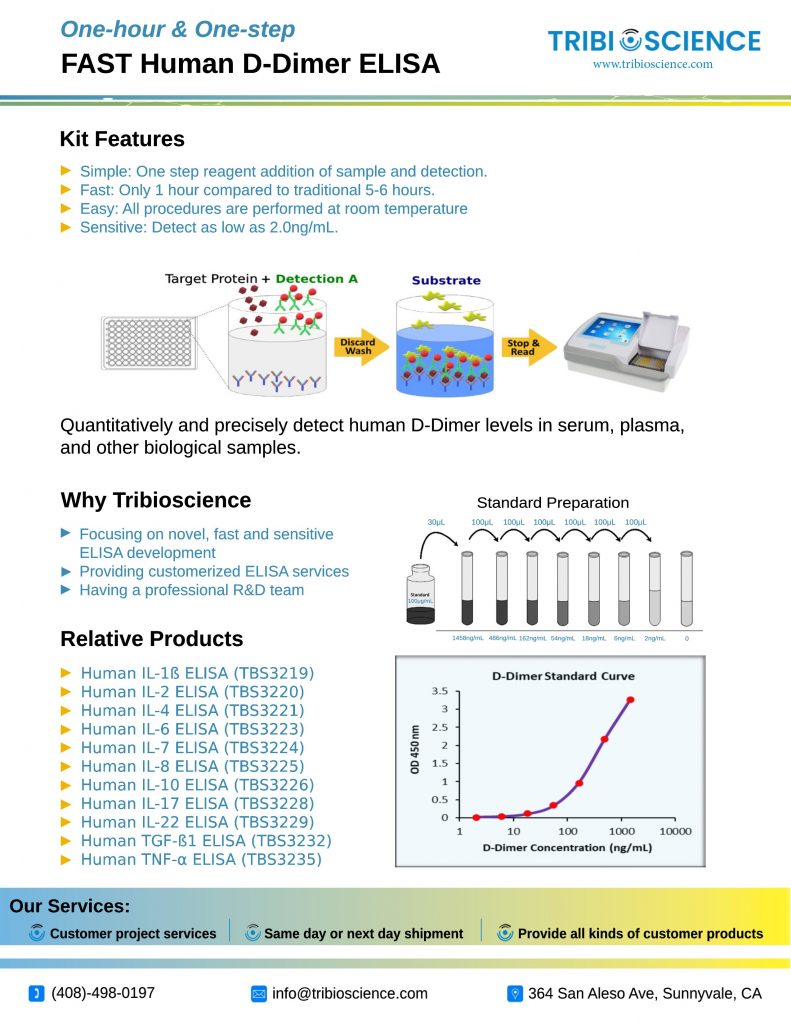 Human D-Dimer ELISA; 1 step and 1hr. (TBS3206)
Related Product