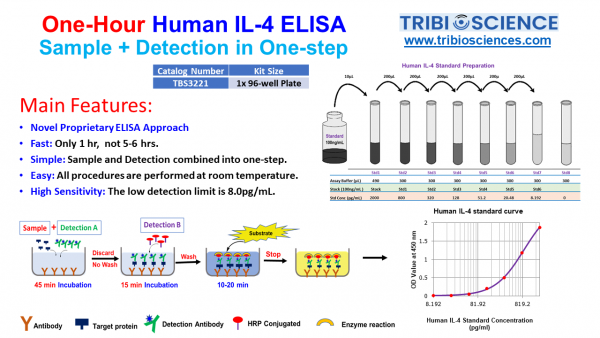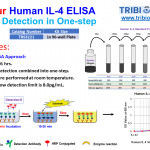 Human IL-4 ELISA; 1 step and 1hr
$320.00
SKU

Stock

SIZE

Price

Quantity

TBS3221

Yes

1x96-well plate

$

320.00
Description
Terms
Additional information
Reviews (0)
Document
Description
Cell culture Supernate, Plasma/Serum IL-4
Introduction
Interleukin-4 (IL4), is a secreted protein which belongs to the IL-4 / IL-13 family. IL-4 enhances both secretion and cell surface expression of IgE and IgG1. It regulates the expression of the low affinity Fc receptor for IgE (CD23) on both lymphocytes and monocytes. IL-4 is essential for the switching of B cells to IgE antibody production and for the maturation of T helper (Th) cells toward the Th2 phenotype. It participates in at least several B-cell activation processes.
The Fast Human IL-4 ELISA is a solid phase ELISA designed to measure human IL-4 levels in cell culture supernatants, serum, and plasma.
Key Features:
Novel Proprietary ELISA Approach
Fast: Only 1hour,  not 5-6 hrs.
Simple: Sample and Detection combined into one-step.
Easy: All procedures are performed at room temperature.
High Sensitivity: The low detection limit is 8.0pg/mL.
The levels of human IL-4 samples are parallel to the standard curves obtained using the kit standards linearly. These results indicate that this kit can be used to determine relative mass values for natural human IL-4 protein.

Kit Contents & Storage Conditions:
Store the unopened kit at 2-8℃. Do not use past kit expiration date.
Typical Data
This standard curve(R2=0.9996) is provided for demonstration only. A standard curve should be generated for each set of samples assayed as Fig. 3.
Sensitivity
The minimum detectable dose (MOD) of human IL-4 is typically 8.0 pg/ml. The Intra-CV is 4.8% the Inter-CV is 8.6%.
Specificity
This assay recognizes natural and recombinant human IL-4.
No cross reactivity: Human IL-4 Rα, Mouse IL-4.