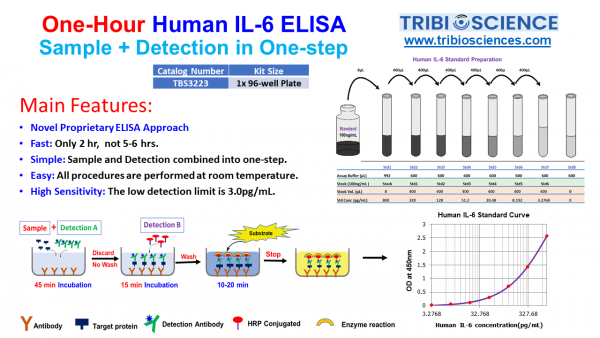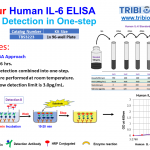 Human IL-6 ELISA; 1 step and 1hr
$390.00
The Fast Human IL-6 ELISA is a solid phase ELISA designed to measure human IL-6 levels in cell culture supernatants, serum, and plasma.
SKU

Stock

SIZE

Price

Quantity

TBS3223

Yes

1x96-well plate

$

390.00
Description
Terms
Additional information
Reviews (0)
Document
Description
Introduction
Interleukin-6 (IL-6) is a multifunctional α-helical cytokine that regulates cell growth and differentiation of various tissues. It particularly plays its role in the immune response and acute phase reactions. IL-6 protein is secreted by a variety of cell types including T cells and macrophages. IL-6 is also involved in hematopoiesis, bone metabolism, and cancer progression, and has been defined an essential role in directing transition from innate to acquired immunity.
Key Features
Novel Proprietary ELISA Approach
Fast: Only 2 hr, not 5-6 hrs.
Simple: Sample and Detection combined into one-step.
Easy: All procedures are performed at room temperature.
High Sensitivity: The low detection limit is 3.0pg/mL.
The levels of human IL-6 samples are parallel to the standard curves obtained using the kit standards linearly. These results indicate that this kit can be used to determine relative mass values for natural human IL-6 protein.
Principle of Assay

Kit Content and Storage Condition

Typical Data
This standard curve(R2=0.9999) is provided for demonstration only. A standard curve should be generated for each set of samples assayed.
Sensitivity
The minimum detectable dose (MOD) of human IL-6 is typically 3.5 pg/ml.
The Intra-CV is 5.51% and the Inter-CV is 8.97 %.
Specificity
This assay recognizes natural and recombinant human IL-6.
no cross-reactivity:
Human CNTF; Human G-CSF; Human gp130; Human IL-6 R; Human IL-11; Human IL-12; Human LIF; Human LIF R; Human OSM; Mouse IL-6; Mouse IL-11; Mouse IL-12.