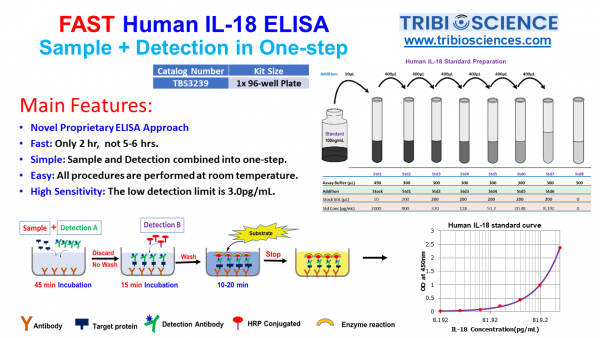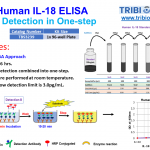 Fast Human IL-18 ELISA kit
$420.00
The Fast Human IL-18 ELISA is a solid phase ELISA designed to measure human IL-18 levels in cell culture supernatants, serum, and plasma.
SKU

Stock

SIZE

Price

Quantity

TBS3239-1

Yes

1x96-well plate

$

420.00
Description
Terms
Additional information
Documents
Reviews (0)
Description
Introduction
IL-18, (Interferon-gamma Inducing Factor, IGIF) is a cytokine with Mr=18 kDa produced by macrophages and monocytes, and other cells. Cells that respond to IL-18 include Th1-type cells and NK cells. IL-18 exerts several effects on Th1-like cells. IL-18 stimulates Th1 cell proliferation, Fas ligand expression and IL-2R alpha chain expression. IL-18 also works in combination with IL-12 to induce the production of interferon-gamma, GM-CSF, and IL-2 by Th1-type cells. IL-18 is implicated as a mediator of septic shock and tissue injury in response to inflammation, and some forms of diabetes.
Key Features:
Novel Proprietary ELISA Approach
Fast: Only 2 hr, not 5-6 hrs.
Simple: Sample and Detection combined into one-step.
Easy: All procedures are performed at room temperature.
High Sensitivity: The low detection limit is 3.0pg/mL.
The levels of human IL-18 samples are parallel to the standard curves obtained using the kit standards linearly. These results indicate that this kit can be used to determine relative mass values for natural human IL-18 protein.
Principle of the Assay

Kit Content and Storage Conditions

Store the unopened kit at 2-8 ℃. Do not use expired kit for assay.
Typical Data
This standard curve (R2= 0.9997) is provided for demonstration only in Fig.3. A standard curve should be generated for each set of samples assayed
Sensitivity
The minimum detectable dose (MOD) of human IL-18 is typically 3.2 pg/ml.
The Intra-CV is 1.2%, the Inter-CV is 10.1%.
Specificity
This assay recognizes natural and recombinant human IL-18.
No-cross reactivity:
Human IFN-γ; IL-18 BPa/Fc Chimera; IL-18 Rα/Fc Chimera; IL-18 Rβ/Fc Chimera; Canine IL-18; Feline IL-18; Mouse IL-18; Porcine IL-18; Rat IL-18.