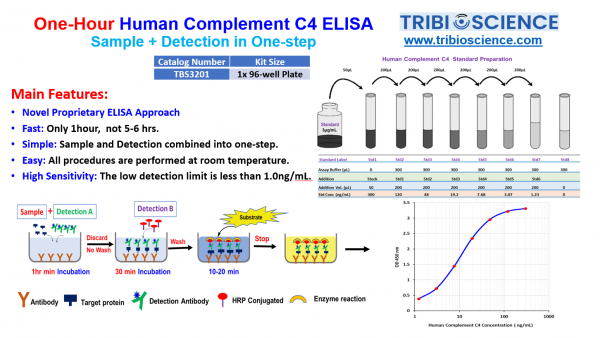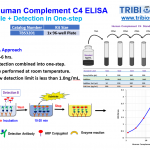 Tribo™ Human Complement C4 ELISA
$580.00
Human Plasma/Serum Complement C4
SKU

Stock

SIZE (kit)

Price

Quantity

TBS3201

Yes

1 X 96-Well Plate

$

580.00
Description
Terms
Additional information
Reviews (0)
Document
Description
Tribo™ Human Complement C4 ELISA
Complement component 4 (C4) plays a key role in the activation of the classical complement pathway. C4 is synthesized as a single-chain precursor molecule (200 kDa) but processed to the three-chain structure with alpha (93 kDa), beta (78 kDa), and gamma (33 kDa) chains prior to secretion. After activation by C1s, C4 is processed to C4a and C4b. C4a anaphylatoxin is a mediator of local inflammation and induces smooth muscle contraction. C4b, the major activation product, is an essential subunit of the C3 and C5 convertases of the classical complement pathway. C4 deficiency is associated with systemic lupus erythematosus. The C4b degradation product, C4d, is a marker for humoral rejection in allografts.
The Fast Human Complement C4 ELISA is a solid phase ELISA designed to measure human complement C4 levels in cell culture supernatants, serum, and plasma. The main feature is that the kit uses our novel proprietary approaches to combine samples and detections into a one-step instead of the complicated traditional methods. It makes the assay simple, easy, accurate, and fast. The measurement can be finished in 1 hour, not need 4-5 hours (Fig. 1). The detection arrangement is from 1 to 300 ng/mL. The levels of human complement C4 samples are parallel to the standard curves obtained using the kit standards linearly. These results indicate that this kit can be used to determine relative mass values for natural human complement C4 protein.
Kit Contents and Storage Conditions:
Reagents
Quantity
Human Complement C4 Microplate
96 well microplate (12 strips of 8 wells) coated with a
Capture Antibody specific for human complement C4.
Human Complement C4 Standard
100 µL of Recombinant human complement C4 protein
(3 µg/mL).
Detection A
2.1 ml of human Complement C4 antibody-Biotin.
Detection B
100 µL ml of Streptavidin-HRP (100x).
Assay Diluent
20 ml of a buffered protein base with preservatives.
10x WashBuffer
12ml of concentrated solution(10x).
TMB Substrate
12 ml of ultra-sensitive TMB substrate.
Stop Solution
6ml of 2 N sulfuric acid.
Store the unopened kit at 2-8 ℃. Do not use past kit expiration date.
The kit contains sufficient materials to run an ELISA on one 96 well plate.
Fig. 1 Simple Assays Procedures

Fig.2 Diagram for Human Complement C4 Standard Preparation

Fig.3 Standard Curve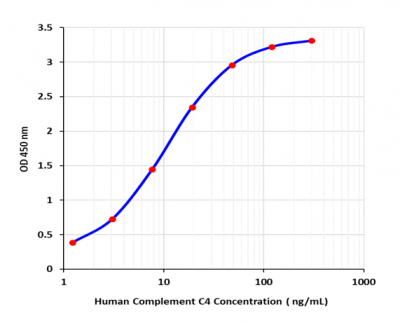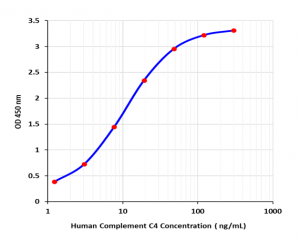 Related Products:
Additional information
| | |
| --- | --- |
| SIZE (kit) | 1 X 96-Well Plate |