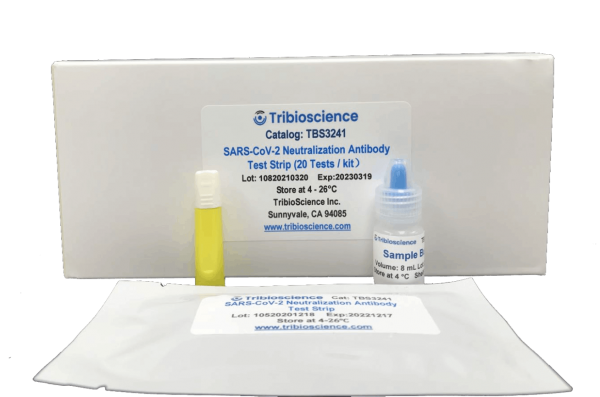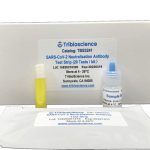 SARS-CoV-2 Neutralization Antibody Detection Fast Strip (Colloidal Gold Method)
$125.00 – $425.00
SKU

Stock

SIZE

Price

Quantity

TBS3241-05

Yes

5/PCK

$

125.00
TBS3241-20

Yes

20/PCK

$

425.00
Description
Terms
Additional information
Documents
Reviews (0)
Description
COVID 19 Neutralization Antibody Test Kit (Colloidal Gold Method) Instructions for Use
Packaging specification:
Test cassette (single test packaging): 5 tests/box; 20 tests/box.
Intended use:
This product is used for the qualitative detection of Covid-19 neutralizing antibody (NAb) in human serum, plasma, and whole blood samples in vitro.
Storage conditions and shelf life:
The original packaging should be stored in a dark and dry place at 2 ℃~30 ℃ and should not be frozen. The shelf life of the product is 24 months.
The reagent should be used as soon as possible within 1 hour after the aluminum foil bag is opened.
Test procedure:
1. Read the instruction completely before testing.
2. Unpack the package, take out the test card and use it within one hour as soon as possible.
3. Draw the serum, plasma, and whole blood samples with a dropper, add 1 drop (about 30 μL) vertically into the sampling hole, then add 2 drops (about 60 μL) of the buffer, and start timing at the same time.
4. After 10 minutes, the test results were detected by the matching Fast Reader for colloidal gold quantitative detection (TBS3242). The test results were invalid after 15 minutes.
Fig.1 Diagram of adding serum, plasma, and whole blood with the pipette.


Fig. 2 Terminal blood test diagram


Related Products:
1. SARS-Covid-2 / Covid-19 Neutralization Antibody ELISA for S Antigen (TBS3240)
2. Fast Reader for Quantitative Detection of Colloidal Gold Test Strip (TBS3242)
3. SARS-CoV-2 IgG/IgM Antibody Test Kit Colloidal Gold Method (TBS3243)
4. SARS-CoV-2 Covid-19 N Antigen ELISA Kit (TBBS3237)
5. SARS-Covid-2 SARS-CoV-2/ Covid-19 S Antigen ELISA Kit (TBS3238)