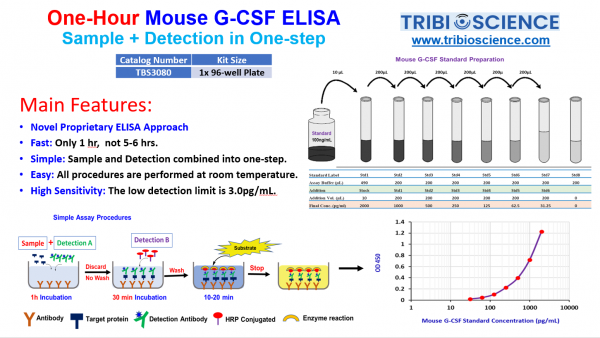 Tribo™ Mouse G-CSF ELISA Kit
$320.00
SKU

Stock

SIZE

Price

Quantity

TBS3080

Yes

1x96-well plate

$

320.00
Description
Terms
Additional information
Document
Reviews (0)
Description
Tribo™ Mouse G-CSF ELISA Kit
Mouse granulocyte-colony stimulating factor (G-CSF) is a 24-25 kDa monomeric glycoprotein that regulates the proliferation, differentiation, and activation of hematopoietic cells. G-CSF is produced primarily by monocytes and macrophages upon activation by endotoxin, TNF-α, or IL-1. Other cell types, including fibroblasts, endothelial cells, astrocytes, and bone marrow stromal cells, can also secrete G-CSF after activation. In addition, various tumor cells express G-CSF constitutively. G-CSF is an important regulator for granulopoiesis in vivo.
The Fast Mouse G-CSF ELISA is a solid phase ELISA designed to measure mouse G-CSF levels in cell culture supernates, serum, and plasma. The main feature is that the kit uses our novel proprietary approaches to combine samples and detections into a one-step instead of the complicated multiple steps in traditional methods. It makes the assay simple, easy, accurate, and fast. The measurement can be finished in 1 hour, not need 4-5 hours (Fig. 1). The detection arrangement is from 8 to 2000pg/mL. The levels of mouse G-CSF samples are parallel to the standard curves obtained using the kit standards linearly. These results indicate that this kit can be used to determine relative mass values for natural mouse G-CSF protein.
Kit Contents and Storage Conditions:
| Reagents | Quantity |
| --- | --- |
| Mouse G-CSF Capture | 96 well microplate (12 strips of 8 wells) coated with a capture antibody against mouse G-CSF. |
| Mouse G-CSF Standard | 20 µl of Recombinant mouse G-CSF protein (100ng/mL). |
| Detection A | 2.1 mL of mouse G-CSF antibody-Biotin. |
| Detection B | 240 µl of Streptavidin-HRP (50x). |
| Assay Diluent | 20 ml of a buffered protein base with preservatives. |
| 10x WashBuffer | 12ml of concentrated solution (10x). |
| TMB Substrate | 12 ml of ultra-sensitive TMB substrate. |
| Stop Solution | 6ml of 2 N sulfuric acid. |
Store the unopened kit at 2-8 ℃. Do not use past kit expiration date.
Fig. 1 Simple Assays Procedures


Fig. 2 Diagram for Mouse G-CSF standard preparation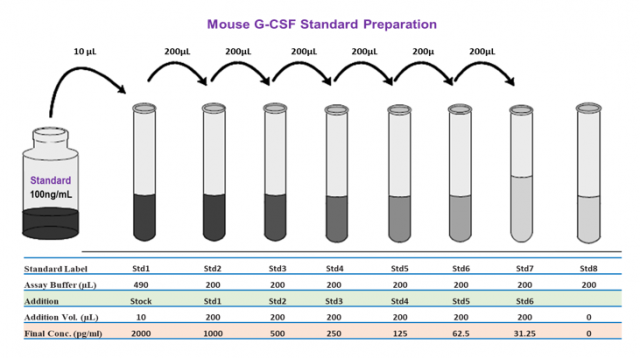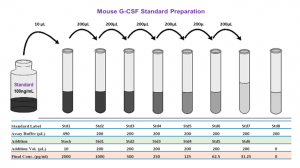 Fig. 3 Mouse G-CSF Standard Concentration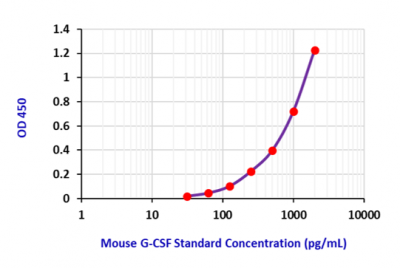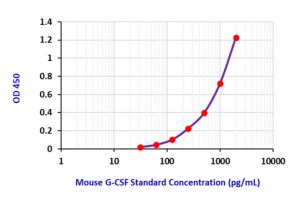 Related Products: