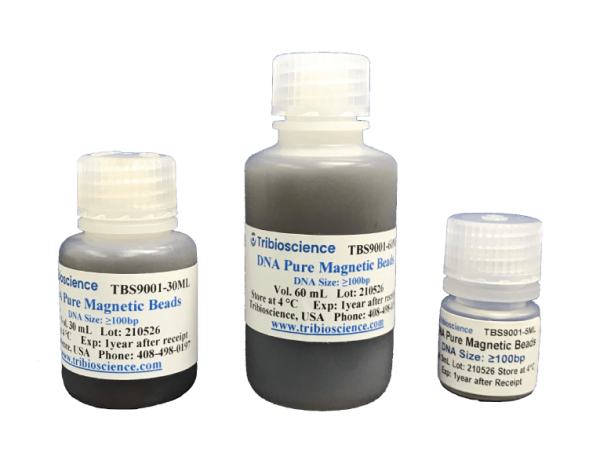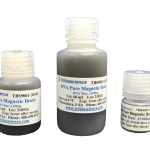 DNA Pure Magnetic Beads (DNA Size ≥100bp)
$129.00 – $789.00
SKU

Stock

SIZE (ml)

Price

Quantity

TBS9001-5mL

Yes

5mL

$

129.00
TBS9001-30mL

Yes

30mL

$

529.00
TBS9001-60mL

Yes

60mL

$

789.00
Description
Terms
Additional information
Document
Reviews (0)
Description
DNA Pure Magnetic Beads are based on paramagnetic beads technology designed for highly efficient purification of DNA fragments from PCR, library, and Next Generation Sequencing (NGS) DNAs. DNA is bound to the surface of the Magnetic Beads, followed by two simple washes with Washing Buffer to remove proteins, dNTPs, primers, salts, and other contaminants (Fig. 1). This method is ideal for the automation of high throughout-put processing, and the purified DNA can be used in a variety of downstream applications. The purified DNA size is preferred to ≥100 bp.
APPLICATIONS
Isolate and purify DNA from PCR products.
DNA can be directly used for PCR, cloning, sequencing, cell transfection, enzymatic analysis without further manipulation.
Genotyping
Fragment Analysis
Primer Walking.
KEY FEATURES
High binding capacity for high yield rate
Simple and fast: Just binding-washing-elute.
No organic solvent
Automatic high throughput.
STORAGE CONDITION
The PCR Cleanup Kit is shipped at room temperature. The magnetic beads and all the buffers are suggested to store at 4 °C. Shelf life is 12 months after receipt.

RELATED PRODUCTS