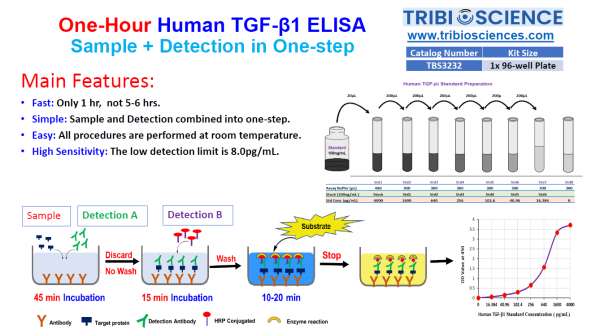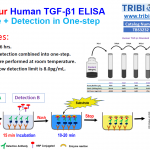 Fast Human TGF-β1 ELISA
$450.00
SKU

Stock

SIZE (kit)

Price

Quantity

TBS3232

Yes

1 Kit

$

450.00
Description
Terms
Additional information
Documents
Reviews (0)
Description
Transforming Growth Factor B (TGF-β) is a stable, multifunctional polypeptide growth factor. TGF-β exists in at least five unique isoforms; TGF-β1, TGF-β2, TGF-β3, TGF-β4, and TGF-946;5. TGF-946;1 is the prevalent form and is found most ubiquitously while the other isoforms are expressed in a more limited spectrum of cells and tissues. It is normally secreted as an inactive or latent complex.
The Fast Human TGF-β1 ELISA is a solid phase ELISA designed to measure human TGF-β1 levels in cell culture supernatants, serum, and plasma. The main feature of this kit is its use of a novel fast approach to replace traditional methods. The kit is designed to ensure short steps, a short incubation time, and only one-set washing out. The measurement can be finished within 2 hours instead of the traditional 4-5 hours. The detection range is between 10-4,000 pg/mL. The levels of human TGF-β1 samples are parallel to the standard curves obtained using the kit standards linearly. These results indicate that this kit can be used to determine relative mass values for natural human TGF-β1 protein.
Principle of the Assay:
This assay employs the quantitative sandwich enzyme immunoassay technique. A monoclonal antibody specific for human TGF-β1 was pre-coated onto a microplate. Standards and samples are then pipetted into the wells and incubated with a detection antibody specific for human TGF-β1. Aspirate each well and add Streptavidin-HRP, incubate the complex. Following a wash to remove any unbound antibodies and samples, an ultra-sensitive TMB substrate solution is added to the wells for the development of color. The color intensity is proportional to the amount of TGF-β1 bound in the initial step and can be measured by a plate reader at λ = 450nm.
Kit Contents and Storage Conditions:
Part
Part#
Description
Storage of Opened/Reconstituted
Human TGF-β1 Microplate
TBS3232A
96-Well Polystyrene Microplate (12-strips of 8-wells) coated with a capture antibody specific for human TGF-946;1.
Return unused wells to the foil pouch containing the desiccant pack. Reseal along the entire edge of the zip seal. May be stored for up to 1 month at 2-8℃
Human TGF-β1 Standard
TBS3232B
0.1mL of Recombinant human TGFβ1 protein (100 ng/mL).
Aliquot and store at -20℃ for up to 1 month in a manual defrost the freezer. Avoid repeated freeze-thaw cycles.
Detection A
TBS3232C
2.2mL of human TGF-β1 antibody.
May be stored for up to 3 months at 2-8℃
Detection B
TBS3232D
120μL of Streptavidin-HRP (100x).
Assay Diluent
TBS3232E
12mL of buffered protein base with preservatives.
10x Wash Buffer
TBS3000W
12mL of concentrated solution (10x).
TMB Substrate
TBS3000T
12mL of ultra-sensitive TMB substrate.
Stop Solution
TBS3000S
6mL of 2N sulfuric acid.
Store the unopened kit at 2-8℃. Do not use past kit expiration dates.
The kit contains sufficient materials to run an ELISA on one 96-well plate.