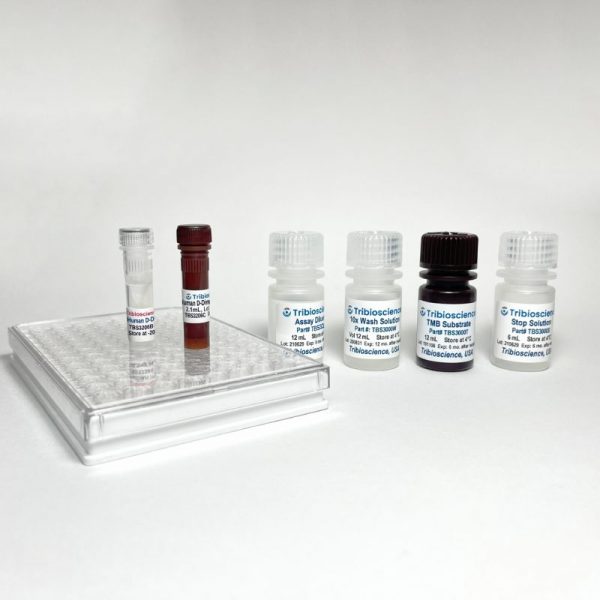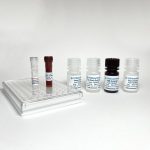 Human D-Dimer ELISA; 1 step and 1hr.
$490.00
SKU

Stock

SIZE (kit)

Price

Quantity

TBS3206

Yes

1 X 96-Well Plate

$

490.00
Description
Terms
Additional information
Documents
Reviews (0)
Description
Tribioscience's Fast Human D-Dimer ELISA is designed to quantitatively detect human D-Dimer levels in serum, plasma, and other biological samples. The main feature is that the kit uses our novel proprietary approaches to combine samples and detections into a one-step instead of the complicated traditional methods. It makes the assay simple, easy, accurate, and fast. The measurement can be finished in 1 hour, not need 4-5 hours (Fig. 1). The detection range is from 2 to 1458 ng/mL. The levels of human D-Dimer samples are parallel to the standard curves obtained using the kit standards linearly. These results indicate that this kit can be used to determine relative mass values for human D-Dimer.
Sensitivity
The minimum detectable dose (MOD) of human is typically 1 ng/ml.
The Intra-assay CV is 4.79% the Inter-assay CV is ˂10%.
Simple Procedures

Simple Standard Preparation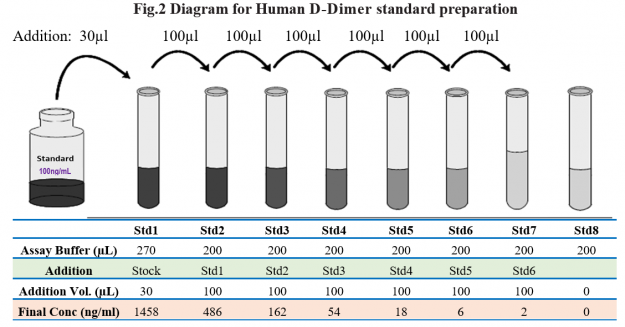 Accurate Standard Curve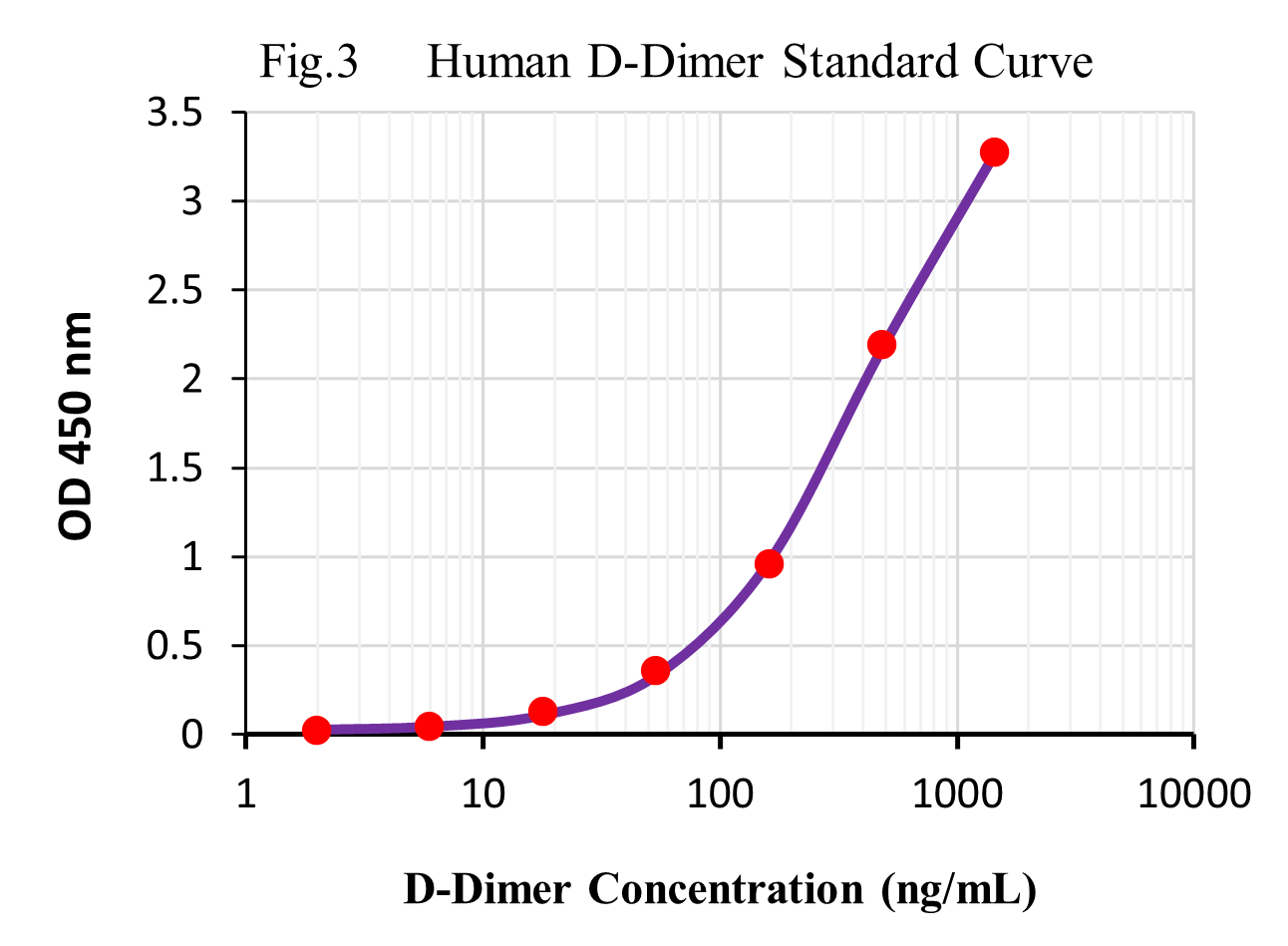 Kit Content and Storage Conditions
Part
Part#
Description
Storage of Opened/Reconstituted
Human D-Dimer Microplate
TBS3206A
96 well polystyrene microplate (12 strips of 8 wells) coated with a monoclonal antibody specific for human D-Dimer.
Return unused wells to the foil pouch. Reseal along the entire edge of the zip-seal. May be stored for up to 1 month at 2-8 °C.
Human D-Dimer Standard
TBS3206B
100 µl of Recombinant human D-Dimer (14.58 µg/mL).
Aliquot and store at -20 ℃ for up to 1 month in a manual defrost the freezer. Avoid repeated freeze-thaw cycles.
Detection A
TBS3206C
2.1 ml of HRP- human D-Dimer antibody.
May be stored for up to 3 months at 2-8 °C.
Assay Diluent
TBS3206D
12 ml of a buffered protein base with preservatives.
Wash Buffer
TBS3000W
12 mL of concentrated solution (10x).
TMB Substrate
TBS3000T
12 mL of ultra-sensitive TMB substrate.
Stop Solution
TBS3000S
6 mL of 2 N sulfuric acid.
Store the unopened kit at 2-8 ℃. Do not use past kit expiration dates.
The kit contains sufficient materials to run an ELISA on one 96 well plate.
Related Product
Additional information
| | |
| --- | --- |
| SIZE (kit) | 1 X 96-Well Plate |