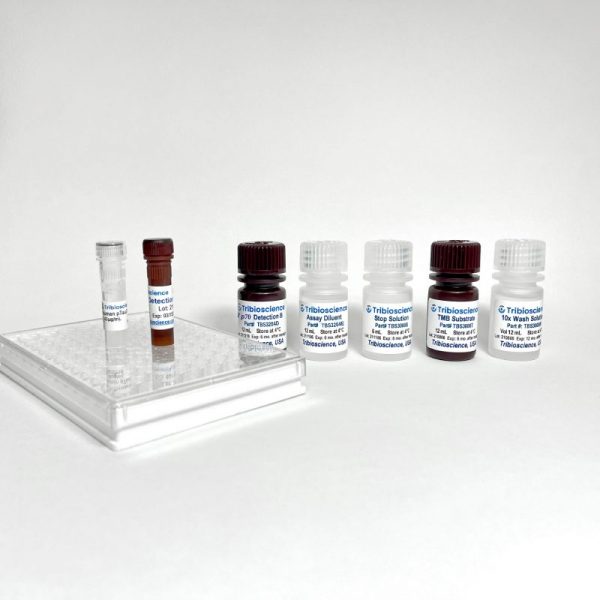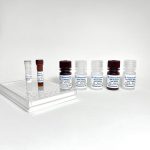 Fast Human IL-12 p70 ELISA
$420.00
The Fast Human IL-12 p70 ELISA is a solid phase ELISA designed to measure human IL-12 p70 levels in cell culture supernatants, serum, and plasma.
SKU

Stock

SIZE (kit)

Price

Quantity

TBS3204

Yes

1 X 96-Well Plate

$

420.00
Description
Terms
Additional information
Documents
Reviews (0)
Description
Interleukin 12 (IL-12) is an anti-inflammatory cytokine made up of a 40 kDa (p40) subunit and a 35 kDa (p35) subunit, also known as a natural killer cell stimulatory factor (NKSF) or cytotoxic lymphocyte maturation factor (CLMF). The IL-12 and IL-23 (another heterodimeric cytokine) share the p40 subunit. IL-12 inhibits the synthesis of numbers of cytokines, including IFN-gamma, IL-2, IL-3, TNF, and GM-CSF produced by activated macrophages and by helper T-cells.
TYPICAL DATA
This standard curve(R2=0.998) is provided for demonstration only. A standard curve should be generated for each set of samples assayed.
SENSITIVITY
The minimum detectable dose (MOD) of human IL-12 p70 is typically 6.5 pg/ml.
The Intra-CV is < 10%, the Inter-CV is < 12%.
SPECIFICITY
This assay recognizes natural and recombinant human IL-12 P70.
No-cross reactivity:
Human IL-12 p35; Human IL-12/IL-23 p40; Human IL-23; Mouse IL-12 p70.
SIMPLE PROCEDURES

SIMPLE STANDARD PREPARATION
STANDARD CURVE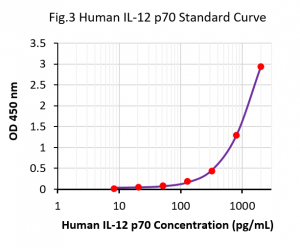 KIT CONTENT AND STORAGE CONDITIONS
PART
PART#
DESCRIPTION
STORAGE OF OPENED/ RECONSTITUTED
Human IL-12 Microplate
TBS3204A
96 well microplate (12 strips of 8 wells) coated with a Capture Antibody specific for human IL-12 p70.
The unused wells can be stored in the sealed foil pouch containing the desiccant pack for up to 1 month at 2-8 °C.
Human IL-12 Standard
TBS3204B
30 μL of Recombinant human IL-12 protein (100ng/mL).
Aliquot and store at -20 ℃ for up to 1 month in a manual defrost freezer. Avoid repeated freeze-thaw cycles.
Detection A
TBS3204C
2.1 mL of human IL-12 antibody.

May be stored for up to

3 months at 2-8 °C.

Detection B
TBS3204D
12 mL of Streptavidin-HRP
Assay Diluent
TBS3204E
12 mL of a buffered protein base with preservatives.
10x Wash Buffer
TBS3000W
12 mL of concentrated solution (10x).
TMB Substrate
TBS3000T
12 mL of ultra-sensitive TMB substrate.
Stop Solution
TBS3000S
6 mL of 2 N sulfuric acid.
RELATIVE PRODUCTS
Additional information
| | |
| --- | --- |
| SIZE (kit) | 1 X 96-Well Plate |