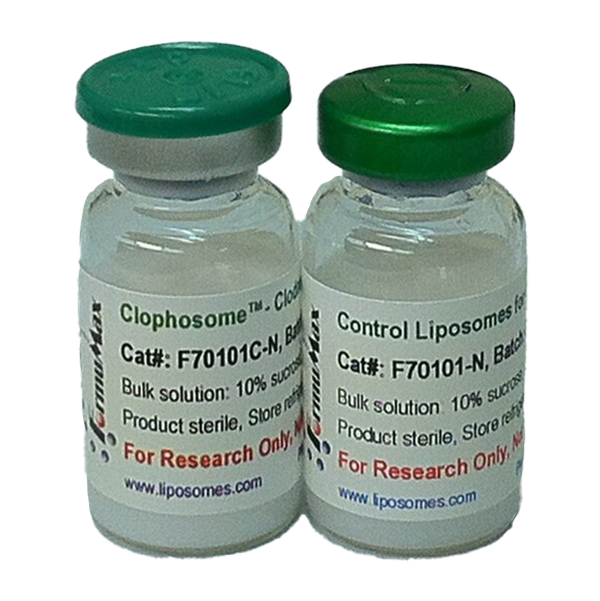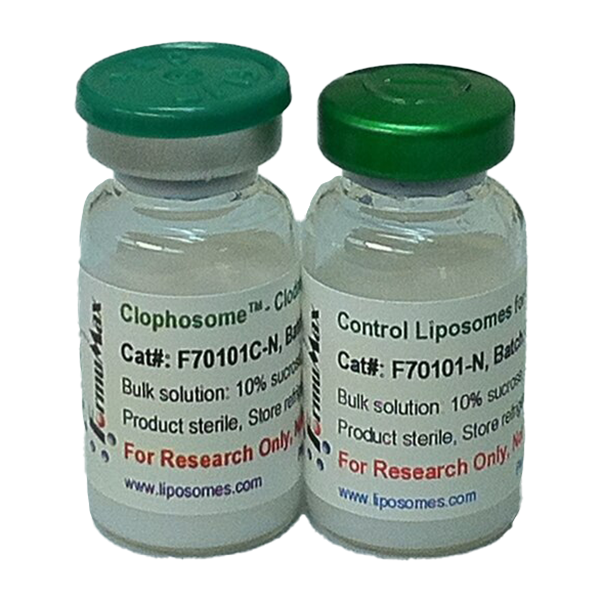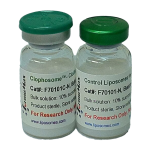 Lyophilized control liposomes for Clophosome® (Neutral)
$136.00
Control Liposomes for Lyophilized Clophosome® (neutral, 5mL)
Volume: 5.0mL post reconstitution
Lipid composition: phosphatidylcholine and cholesterol
Form: Lyophilized cake/powder from 10% sucrose, 20mM Na phosphate, pH 7.0-7.5
Shelf-life: 12 months for dry cake (guaranteed, replacement only)
Shelf-life: 3 months sterilely reconstituted (guaranteed, replacement only)
SKU

Stock

SIZE (ml)

Price

Quantity

F70101-NL

Yes

5mL

$

136.00
Description
Terms
Additional information
Reviews (0)
Description
Lyophilized Empty Control Liposomes for Clophosome® (Neutral, 5.0mL)
This product of empty liposomes is made to match the physical and chemical attributes of the lyophilized Clophosome® without the active clodronate encapsulated. It should be used as a negative control for F70101C-NL in macrophage depletion studies.
Specifications
Product code: F70101-NL
Lipid composition: phosphatidylcholine and cholesterol
Clodronate concentration: None
Bulk solution: lyophilized from phosphate-buffered sucrose (20mM sodium phosphate, 10% sucrose), pH 7.0-7.5
Shelf-life: 12 months for dry cake (guaranteed, replacement only, starting from the date of delivery)
Shelf-life: 3 months sterilely reconstituted (guaranteed, replacement only)
Recommended storage: 2-8 degree C
Reconstitution: We recommend using sterile water for reconstitution. Add 4.7 ml sterile pure water into the vial at room temperature and mix by inverting the vial several times. Let it stand on the bench for  2-3 min and vortex 2-3 times (20-30 sec each time) at medium speed. The liposomes can be used in 10 min after reconstitution. Make sure there are no lumps or any noticeable particles. Vortex more if this occurs until homogeneous.
Sterilely reconstituted product can be stored in a refrigerator for up to 3 months (guaranteed) when handled cleanly. For best shelf-life for the reconstituted liposomes inject sterile water through the rubber stopper using a sterile syringe needle.