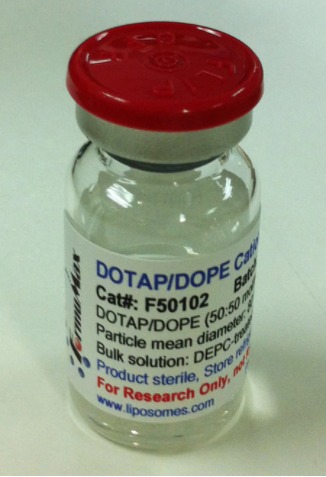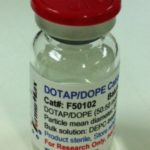 Cationic DOTAP/DC-CHOL Liposome Adjuvants
$587.00
Cationic DOTAP/DC-CHOL Liposome Adjuvants
Lipid composition: DOTAP/DC-Cholesterol (50:50 mol/mol)
Mean particle size: 50-80 nm (by DSL)
Lipid concentration: 40 mM (24.7 mg/mL)
Bulk solution: D5W (dextrose in milli-Q water)
Shelf-life: 6 months when store refrigerated (2-8°C)
SKU

Stock

SIZE (ml)

Price

Quantity

F50101V

Yes

2 ml

$

587.00
Description
Terms
Additional information
Reviews (0)
Description
DOTAP/DC-CHOL Cationic Liposomes
Product code: F50101V
Lipid composition: DOTAP/DC-Cholesterol (50:50 mol/mol)
Mean particle size: 50-80 nm (by DSL)
Lipid concentration: 40 mM (24.7 mg/mL)
Volume: 2.0mL
Bulk solution: D5W (dextrose in milli-Q water)
Shelf-life: 6 months guaranteed for sterility for unopened vials stored at 2-8 degree C (guaranteed starting from the date of delivery, replacement only)
DOTAP: 1,2-dioleoyl-3-trimethylammonium-propane (chloride salt)
DC-CHOL: DC-Cholesterol∙HCl, 3b-[N-(N',N'-dimethylaminoethane)-caramoyl] chelesterol hydrochloride
Attachment of class B CpG ODN onto DOTAP/DC-chol liposome in nasal vaccine formulations augments antigen-specific immune responses in mice.
Tada R, Muto S, Iwata T, Hidaka A, Kiyono H, Kunisawa J, Aramaki Y.BMC Res Notes. 2017 Jan 26;10(1):68. doi: 10.1186/s13104-017-2380-8.PMID: 28126014
Nasal vaccination with pneumococcal surface protein A in combination with cationic liposomes consisting of DOTAP and DC-chol confers antigen-mediated protective immunity against Streptococcus pneumoniae infections in mice.
Tada R, Suzuki H, Takahashi S, Negishi Y, Kiyono H, Kunisawa J, Aramaki Y.Int Immunopharmacol. 2018 Aug;61:385-393.
Comparison of the depot effect and immunogenicity of liposomes based on dimethyldioctadecylammonium (DDA), 3β-[N-(N',N'-Dimethylaminoethane)carbomyl] cholesterol (DC-Chol), and 1,2-Dioleoyl-3-trimethylammonium propane (DOTAP): prolonged liposome retention mediates stronger Th1 responses.
Henriksen-Lacey M, Christensen D, Bramwell VW, Lindenstrøm T, Agger EM, Andersen P, Perrie Y.Mol Pharm. 2011 Feb 7;8(1):153-61.